Art is the bridge to expression, healing, connection, recovery and passion.
Our society has undergone a paradigm shift in emotions since pandemic;
as well as lost lives, careers and purpose. 
We all can use a way to  Art has the unique capacity to connect and

allow people to express.  It is healing, purposeful and the most unique source
of human expression.  When facing crisis, health issues art can be a channel to heal and give an outlet for emotions to create a sense of serenity.
We have made a commitment to help others recover their lives through art expression.
We have established a non-profit with a goal of allowing expression where words Can't convey what is going on in mind and body.  As an outlet for expression in media of glass and other media to promote overall health.  We offer classes, demonstrations and workshops to give an understanding of the beauty and possibilities of glass to individuals, groups and organizations that specialize in rebuilding lives through recovery of all kinds. Let us tailor a program to fit your needs. 
I believe joy, peace,  and serenity are contagious, so I designed products to give you a boost for your day to carry and pass along to others. I am grateful to live in Laguna Beach, surrounded by nature's influences that inspire me to create.
I breathe deep the ocean air, take in the colors of the ocean and sky and translate it into my work. Designed to give you a bit of joy in the day with tokens, pendants, and other gifts of positive energy and thoughts of all kinds. I bring you the most beautiful glass gifts with a spirit of encouragement. As a designer and artist, I found a need to take my talents and channel them to a meaningful product for life's challenges.  Put a chip in your pocket, on your keychain, or wear it to have a beautiful touchstone to give you faith and encouragement.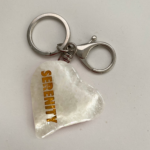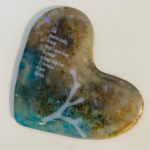 We offer a variety of products to inspire and delight and can customize them to fit your special needs